Order Code

Product Performance
• Small size, space-saving, the best chotce for limited installation space.
. Standardized specifications, installed directly, without other accessories, to reduce costs.
• The material of cylinder body Is carbon steel, the inner wall of special processing, surface smooth, long service life.
• Axial, lateral plate oil-lree pipe to enhance the overall appearance.
Technical Specification
Mounting
Operating pressure range Speed Range
Operating temperature range Use Traffic
Actino mode
SD:;SW:SD:Uniaxial; SWBiaxial LA::LW: LA:Uniaxial; LW:Biaxial 一 5-140kg/c ~~ 8~100mm/s
Standard hydraulic oil Double-acting Carbon steel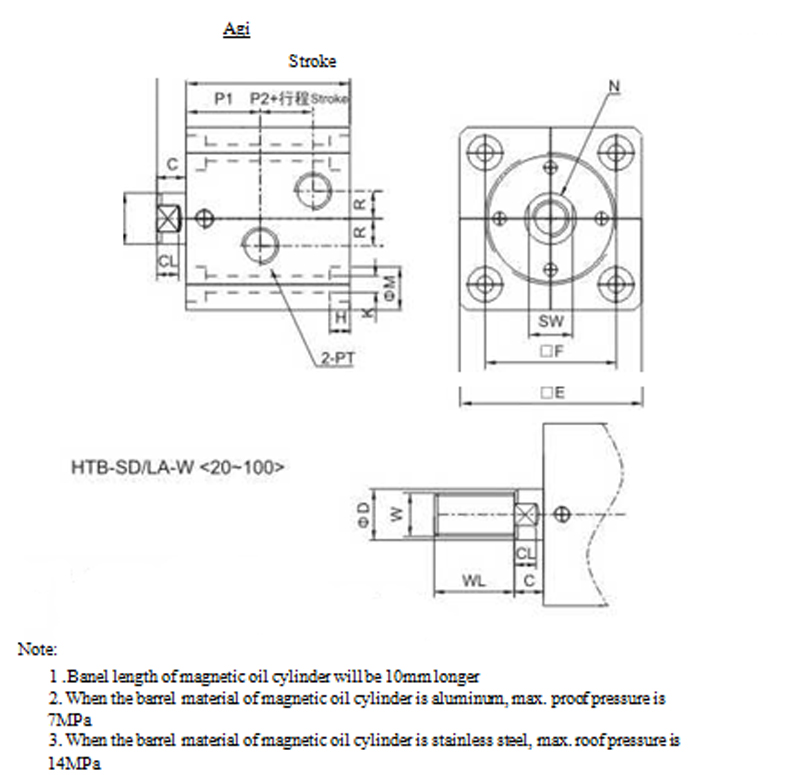 Bore ABC

CL
D SW E EA
EB
F I FA
FB H K KA KB KW

M M1 M2

N                        W WL L LH

P1 P2 PT R
51
43
8
6
12
10
42
30
5.5

5.6

9
M8x 1.25 Depth"
M10x1.25
20
22.5
11
ZG1/8
5
53
45
8
6
14
12
48
36
5.5

5.6

9
M10x1.5SDeplh15
M12x1.25
22
23
12
ZG1/8
5
64
54
10
7
20
17
62
70
56
47
56
24
6.5

6.8

28
4
12
11
14

9

M12x1.75^Deplh15
M16x1.5
25
25

9

28
14
ZG1/4
10
65
55
10
7
25
22
70
80
64
52
62
23
9

9

28
4
12
14
18
11
M16x2  Depth20
M22x1.5
30
29

11

28
15
ZG1/4
10
71
60
11
8
30
27
80
94
74
58
74
27
11

11

29
4
14
18
20

14

M20x2.5SDeplh25
M26x1.5
35
34

13

29.5
18
ZG1/4
10
80
67
13
10
35
32
94

114

89
69
90
32
13
13
31
4
16
20
24

16

M27x3 Depth35
M30x1.5
40
42

15

31

20
ZG3/8
10
95
78
17
14
45
41
114
86
15
15
22
M30x3.5  Deplh35
M39x 2
45
33
27
ZG3/8
15
99
82
17
14
50
47
134
102
17
18
26
M36x4  Deplh40
M48x 2
50
38
35
ZG3/8
15/
Specifications Of Cylinder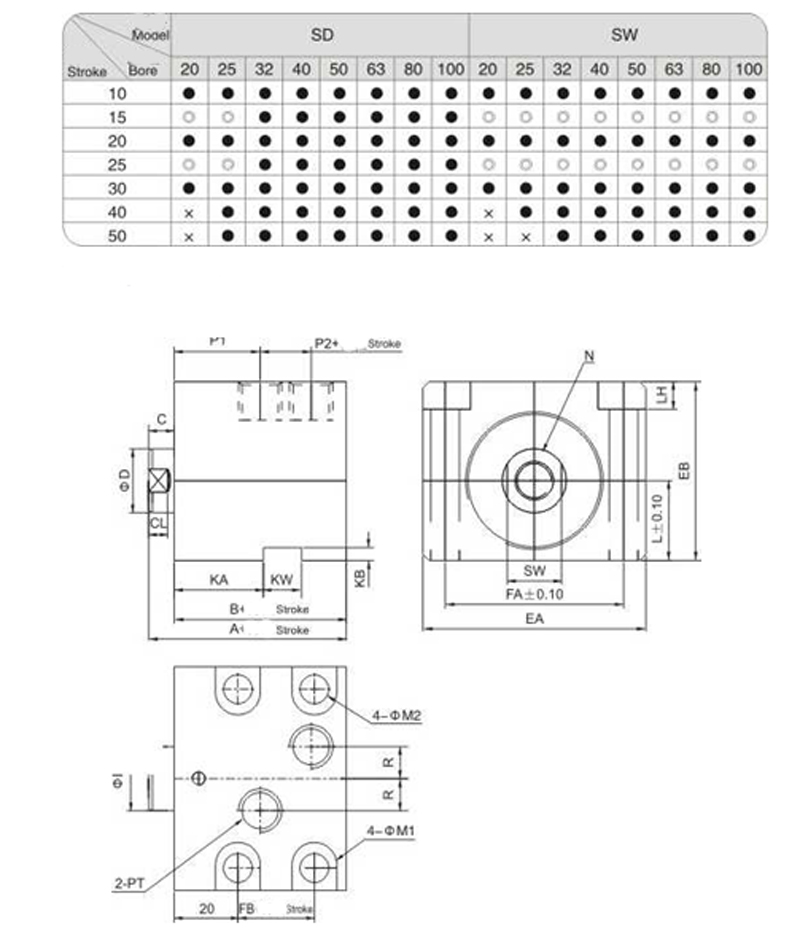 ---
---