Feature :
We strive to be perfect in every detail.
Brass material makes fttings light and compact, metal rivet nut realizes longer service life.
The sleeve with various sizes for option is very easy to connect and disconnect.
Good sealing performance ensures high quality.
Note :
1. NPT, PT, G thread are optional.
2. Pipe sleeve color can be customized.
3. Special type of fttings also can be customized.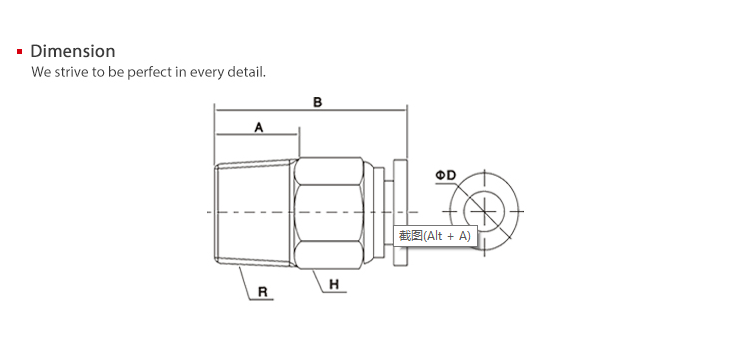 | | | | | | | |
| --- | --- | --- | --- | --- | --- | --- |
| Inch Pipe | Metric Pipe | φD | R | A | B | H |
| SPC5/32-M5 | SPC4-M5 | 4 | M5 | 4.5 | 22 | 10 |
| SPC5/32-01 | SPC4-01 | 4 | PT1/8 | 7 | 20.5 | 10 |
| SPC5/32-02 | SPC4-02 | 4 | PT1/4 | 9 | 20 | 14 |
| SPC1/4-M5 | SPC6-M5 | 6 | M5 | 4.5 | 22.5 | 12 |
| SPC1/4-01 | SPC6-01 | 6 | PT1/8 | 7 | 22 | 12 |
| SPC1/4-02 | SPC6-02 | 6 | PT1/4 | 9 | 22 | 14 |
| SPC1/4-03 | SPC6-03 | 6 | PT3/8 | 10 | 21.5 | 17 |
| SPC1/4-04 | SPC6-04 | 6 | PT1/2 | 11 | 23 | 21 |
| SPC5/16-01 | SPC8-01 | 8 | PT1/8 | 8 | 27 | 14 |
| SPC5/16-02 | SPC8-02 | 8 | PT1/4 | 10 | 25 | 14 |
| SPC5/16-03 | SPC8-03 | 8 | PT3/8 | 10 | 22 | 17 |
| SPC5/16-04 | SPC8-04 | 8 | PT1/2 | 11 | 23.5 | 21 |
| SPC3/8-01 | SPC10-01 | 10 | PT1/8 | 8 | 31 | 17 |
| SPC3/8-02 | SPC10-02 | 10 | PT1/4 | 10 | 29 | 17 |
| SPC3/8-03 | SPC10-03 | 10 | PT3/8 | 10 | 25 | 17 |
| SPC3/8-04 | SPC10-04 | 10 | PT1/2 | 11 | 32.5 | 21 |
| SPC1/2-01 | SPC12-01 | 12 | PT1/8 | 8 | 34 | 19 |
| SPC1/2-02 | SPC12-02 | 12 | PT1/4 | 10 | 31 | 19 |
| SPC1/2-03 | SPC12-03 | 12 | PT3/8 | 10 | 30.5 | 19 |
| SPC1/2-04 | SPC12-04 | 12 | PT1/2 | 11 | 38 | 21 |
| / | SPC14-03 | 14 | PT3/8 | 12 | 36 | 21 |
| / | SPC14-04 | 14 | PT1/2 | 13 | 40 | 21 |
| / | SPC16-03 | 16 | PT3/8 | 12 | 40 | 24 |
| / | SPC16-04 | 16 | PT1/2 | 13 | 40.5 | 24 |