Order Code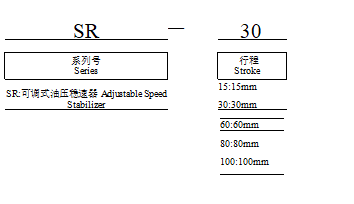 1 )lt can perform stable speed control for long time, reset by use of spring.
2) Full sealing structure, no oil leakage, and dustproof, it suits for different special conditions.
3) The viscosity of hydraulic oil will be stable change even if the temperature changes, consequently it has high speed stabilization function.
4) Small size, easy installation, it suits for mechanical hand, air compressed cylinder automatic machine, speed regulation driller, grinding machine, shearing and cutting machine, and etc.
Technical Specification

Dimension

Model

人

B

c

D

E                          F

G

Max. stroke

Working Temperature

Max. load

SR-15

151

15

24

10

28.5

18

24
15

0~60C

15~350Kgf

SR-30

206

30

24

10

28.5

18

24
30

0'60′C

15~350Kgf

SR-60

285

60

24

10

28.5

18

24
60

0~6(FC

15~350Kgf

SR-80

337

80

24

10

28.5

18

24
80

0-60 C

15~350Kgf

SR-100

398

100

24

10

28.5

18

24

100

0'60′C

15~350Kgf
---
---